Zimbabweans are well regarded as artists and the range and scope of their talent is reflected in colourful wax-resist batiks, soft wool rugs and sinuous stone sculptures, among others. In recent years, the market for such art has dwindled as tourism dried up but there are still an impressive number of craft markets, art exhibitions and casual traders selling their wares around town. In one of the local shopping centres, a reformed street-boy is selling baobab trees beautifully crafted in wire, complete with small wooden painted birds. In another area of town, the more utilitarian artisans are crafting an impressive array of dog kennels, wendy houses and wicker furniture. However, the artist to whom this blog is dedicated takes the biscuit. At a crossroads on my way home yesterday, I spotted a baboon, on its hind legs, apparently clutching a gourd. Intrigued, I pulled over and on closer inspection realised that it was indeed an inanimate and pretty impressive replica. The artist's brother was trying to sell this masterpiece to passersby. When I asked him about it, he told me his brother was a very talented and original artist. He drew my attention to the leafy shrub at its feet and told me he called the piece "Baboon on Orchid". It was on sale for the (possibly slightly ambitious) price of $450. I have to say that in all my travels, it is quite the weirdest thing I've ever seen for sale on the side of the road. But, ten out of ten for originality, I say. Damien Hurst may have met his match.
One of the pleasures of living in Harare, I've recently discovered, is that there are miles and miles of bush tracks and footpaths to explore on bikes. This has been a major occupation for the last couple of weekends. The TTL (or Tribal Trust Lands) occupy any space that isn't urban, agricultural or national park. Neatly thatched rondavels are scattered in the hilly scrubland, divided by undeniably picturesque copses and rocky kopjes. Over the course of a 50km bike ride every villager we encountered was effusive and friendly without exception. About a 30 minute drive out of town to the north of Harare there is a great slab of rock, rising out of the surrounding countryside like a hump-backed whale (although, Zim being a land-locked country, this is probably not an apt analogy). Dombashawa (meaning red rock) is a beautiful piece of natural architecture that made me want re-visit my childhood habit of climbing everything in sight. Covered with rust and lemon-yellow lichen, the rock has spiritual significance for the local people. Paintings depicting hunting scenes decorate the walls of a small cave, and the small pool fed by rainwater run-off used to yield wild rice to be ritually harvested. The rice has gone now: apparently the gods were not suitably appeased and turned off the taps on this little perk. The view over the surrounding rural countryside is stunning, and on a Sunday morning the sound of drums and church singing carry incongruously up to the top. On the road to Dombashawa there are a number of local artisans hoping to coax a sale of aesthetic stone treasures or pottery. The most unique artist, though, is a man who has learned the art of growing bonsai trees. In hollow logs or around boulders, he has carefully nurtured figs, jacarandas and baobabs into their miniature adult forms. Many of the trees are over 6 or 8 years old, showing true tenacity and patience. There's something quite appealing about owning a portable baobab tree...
This title may lead you to believe that I have succumbed to mango-tree fever already but there is actually something in common between these two. Allow me to explain. A little recap: Zimbabwe entered hyperinflation in early 2007. In mid-November 2008, the highest monthly inflation rate was reached at almost 80,000,000,000%, equivalent to a daily inflation rate of 98%*. The highest denomination note ever issued was for 100 trillion dollars. These figures are truly mind-boggling for most of us, but can you imagine actually having to try and live under these circumstances.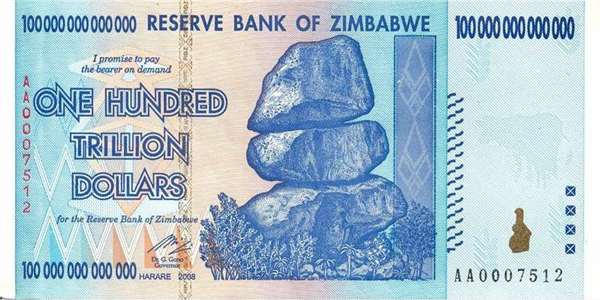 The reliable source of all wisdom, Wikipedia, states that "hyperinflation becomes visible when there is an unchecked increase in the moneysupply (or drastic debasement of coinage) usually accompanied by a widespread unwillingness to hold the money for more than the time needed to trade it for something tangible to avoid further loss". Bill Gates was the first ever trillionaire, but the average man on the street was a Zim Dollar trillionaire by this point although the notes were virtually worthless and becoming more so the longer they remained in the piggy bank. Anyway, not to dwell, the Zimbabwe Dollar ceased to exist when the US Dollar became legal tender in January 2009 as the preference for greenbacks became more evident. Since then, the economy has stabilised and the shops have re-filled. Only paper money is in circulation, but the prices of goods are seldom in round figures. This means that at when paying for your groceries at the till, there is often a credit of a few cents. Here's where dentists can thank their lucky stars for inflation, because, often finding their customers unwilling to forego those few coppers, the cashiers have adopted the habit of offering sweets, chocolates or lollypops (in compulsory day-glo colours) to make up the difference. So, the tooth fairy is still in business and the rest of us have to don our running shoes that much more often to retain a waistline. *Hanke, S. 2009. Professor of Applied Economics, The Johns Hopkins University